The 14 Best Undershirts for Men to Control Armpit Sweat
Mens crew and v-neck undershirts get a bad rap, but don't discount this incredibly necessary base layer to protect your pricier duds from sweat.
Let's start by erasing those terrible mens undershirt associations that come to mind like uncool dads from your youth and the shameful style mishaps of a nerdy Ross Gellar, because there's an undershirt option for any guy to wear to conquer sweaty pits, without putting your secret weapon on display.
At the end of the day, would you rather suffer the embarrassment of visible sweat marks around the office? That's what we thought. The best men's undershirts have the soft touch of pima cotton or a micro modal f abric, moisture-wicking technology like your favorite activewear, and even come in a variety of necklines to go unseen.
No matter what your needs may be, we can say there's an option for any guy to stay dry and uncomfortable, even if the day gets heated. Take a look at the best mens undershirts to keep sweat under wraps.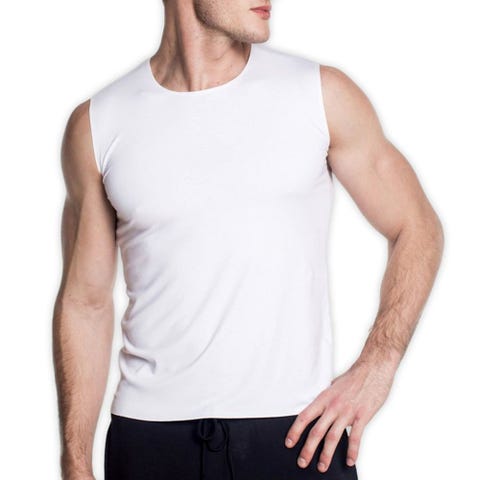 Tani USA 
taniusa.com
$45.00
Micro modal fabric can make a basic T-shirt / undershirt feels like a total luxury. It's incredibly soft and typically used in the best men's underwear for next-level comfort, but it's also shrink-resistant with great stretch. It feels like silk, but much more durable. Tani USA's micro modal muscle tank is a perfect option that will go unnoticed as a base layer with no visible lines, while you enjoy the rich feel of the most comfort undershirt.